Profile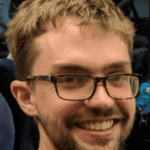 Stewart Martin-Haugh
My CV
Education

Sherrardswood School, Welwyn, Knights Templar School, Baldock, University of York, University of Sussex

Qualifications

Master's degree in Physics (York), PhD in Experimental Particle Physics (Sussex)

Work History

Summer placements at DESY (big German lab) and CERN, then PhD

Current Job

Employer

Rutherford Appleton Laboratory

My connections to STFC science and technology

STFC pay me! Also, they manage all UK involvement in CERN, so my job wouldn't need to exist otherwise. They have been kind enough to give me an office.
About Me:

Particle physicist for CERN, based at a UK lab

Read more

I live in Reading with my wife – she's a former particle physicist now working as a government climate change analyst.

In my spare time I like hiking, playing the piano, and visiting unusual museums.

My Work:

Write code to analyse data from collisions at the Large Hadron Collider

What I'd do with the prize money:

Pay for schools in disadvantaged areas to visit my lab

Read more

Every year my lab holds a Particle Physics Masterclass for 700 A-level students, where they learn about particle physics and get to visit our particle accelerators. It's the biggest event of its kind in the world, and I really enjoy helping with the hands-on sessions. It's a great way to talk face-to-face to students about science and see scientists as more human.

For some schools, the cost of transport to the lab is too high: if I win I'd like to use the money to help schools from disadvantaged areas to visit.
My Interview

How would you describe yourself in 3 words?

Me, myself, I

What or who inspired you to follow your career?

Reading the Emperor's New Mind by Roger Penrose convinced me to do physics A-Level instead of economics.

What was your favourite subject at school?

French and German: physics at school felt too much like memorising facts

What did you want to be after you left school?

From ages 4 to 18: fireman, fighter pilot, lawyer, physicist

Were you ever in trouble at school?

Yes, a few times over the years. During my first week of sixth form I was handed a basketball: without thinking I bounced it on the floor, so hard that it hit the ceiling and broke a ceiling tile. I then had to explain to the head of year what I'd done...

If you weren't doing this job, what would you choose instead?

I think it could be fun to be a lawyer, or maybe another kind of scientist

Who is your favourite singer or band?

The National

What's your favourite food?

Pizza

What is the most fun thing you've done?

A snowboarding trip when I lived in Geneva.

If you had 3 wishes for yourself what would they be? - be honest!

I would wish for the usual things like world peace and a solution to climate change, but your typical genie would just kill all humans and say "job done". So I'd wish for a decent spaceship and then decide on the next two wishes during my travels.

Tell us a joke.

What did the inflatable headmaster tell the inflatable boy who brought a pin into the inflatable school? You've let me down. You've let the whole school down. But worst of all, you've let yourself down.
My profile link:
https://ias.im/u.194422
---
---