Profile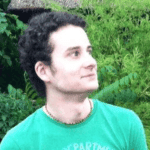 Marton Olbei
My CV
Education

I studied at a small bilingual school in my hometown (Pécs), and went to university in Budapest (Eotvos Lorand University)

Qualifications

BSc and MSc degrees from Eotvos Lorand University, from Biology and Molecular Genetics

Work History

I worked privately as a translator during university, and later on I worked at a publication that writes about video games

Current Job

I'm a PhD student at the Earlham Institute in Norwich

Employer

I work/study at the Earlham Institute, but officially I'm a PhD student of the University of East Anglia
About Me:

I'm a computational biology PhD student, I study living things with artificial things

Read more

I live in Norwich with my girlfriend, both of us are Hungarian. Sadly we have no pets (yet!), but have a bunch of plants we love equally. I love Italian food, martial arts and comedy.

My Work:

I study bacteria with computers

Read more

I study bacteria with computers – what I mean by this, is that we collect a bunch of knowledge about the bacteria, put it into a computer, and try to see how much of this collection behaves like the real thing.

This is really handy, because you can do experiments on this collection – or what we call a model – without actually going to the lab.

Since computers can do these experiments really fast, you can quickly find out what are the questions that are worth putting the extra time into, and checking it in the "real world", a laboratory.

I use a special kind of model, called a network model. These networks models show how the parts that make up the bacteria work together, which parts connect to which parts. They look something like this:

The circles show the parts of the bacteria, and the lines connecting them show what is connected to what.

This kind of model can be used to show any kind of relationship, it has many real life uses. Social networks, such as Facebook can be described in a very similar way.

My Typical Day:

I sit at my computer and try to figure out why some bacteria behave the way they do

Read more

My typical day starts around 8:00, which is when I usually wake up. I catch up on the news while I get ready, brew some coffee and walk to work – I am so lucky to live near by!

I usually start working around 9:00 in this beautiful building.

In the first hour or so I sit at my desk, and reply to e-mails and similar things. Between 10:00 – 12:00 I try to get as much work done as possible. This usually means sitting at my computer, and testing out ideas by writing programs, or just thinking hard and scribbling/taking notes in a notebook that get tested later on.

My handwriting could be nicer.

Sometimes we have invited speakers during the day. They give lectures about what they study. You can learn a lot from these!

Sometimes in the afternoon I meet with my boss, my supervisor. He is a really smart, accomplished scientist who guides my when I try to figure out some answers.

The rest of the workday goes like the 10:00-12:00 part – I think about possible solutions, and try to do them on the computer.

I usually get home around 18:00-19:00, I work out a little bit, cook dinner, and spend time with my girlfriend. We like to go on walks in the evening, the area around us is really pretty.

We have a lot of horses living nearby!

What I'd do with the prize money:

I would offer it to a related charity

Read more

If I were to win I would offer the prize money to a related charity or organisation. One of the things I've learned so far about being a scientist, is that sometimes it's okay to admit you don't know something – that's the whole point of the thing! Since I'm not sure what would be the best possible way to use that money, I would give it to someone that does, like a charity or organisation specialised on this.
My Interview

How would you describe yourself in 3 words?

Open, talkative, always excited

What or who inspired you to follow your career?

I had a collection of cards as a child about animals. It was a subscription service, where you got a new pack with pretty pictures and all the facts about them every month. I was obsessed with them and wanted to study biology ever since

What was your favourite subject at school?

I really enjoyed biology (obviously), history, and languages.

What did you want to be after you left school?

I always wanted to be a scientist, or a journalist if that doesn't work out.

Were you ever in trouble at school?

No, not really

If you weren't doing this job, what would you choose instead?

Journalism

Who is your favourite singer or band?

Foo Fighters

What's your favourite food?

Pasta carbonara, although I still haven't quite perfected it

What is the most fun thing you've done?

Went hiking to some beautiful places in Spain last summer

If you had 3 wishes for yourself what would they be? - be honest!

1. The freedom to pursue any interest without constraints of money or time 2. Good health 3. To restore all the biodiversity we lost

Tell us a joke.

Why haven't aliens contacted Earth? They looked at the reviews, only one star
My profile link:
https://ias.im/u.194431
---
---