Profile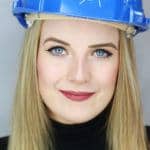 Kathryn Coldham
My CV
Education

I completed A levels in Biology, Further Maths, Maths and Physics, and an AS level in Chemistry, at the Sydney Russell School in Dagenham. I then studied for an MSci in Physics at Queen Mary University of London and I am currently a PhD Student at Brunel University London.

Qualifications

Work History

I have carried out research at CERN and DESY. I volunteer at the Royal Institution of Great Britain, where I help to present fun science demos! I also volunteer as a STEM Ambassador, giving talks to school students all about particle physics.

Current Job

PhD Student in Electronic and Computer Engineering at Brunel University London

Employer

My connections to STFC science and technology

My PhD is funded by the STFC.
About Me:

I'm a first-year PhD Student at Brunel University London who is working on a machine called the Large Hadron Collider!

Read more

I'm a first-year PhD Student at Brunel University London and I work on helping to improve our knowledge about a very heavy particle called the top quark! In my spare time, I do a martial art called Taekwondo and I am also a black belt in Jujitsu. I love anything to do with physics and enjoy travelling to different countries!

My Work:

Researching a particle called the top quark that has been produced in the Large Hadron Collider!

Read more

I work on the Large Hadron Collider (called the LHC for short). The LHC is a giant, ring-shaped machine at a place called CERN in Switzerland. The LHC is used to smash particles called protons together at speeds close to the speed of light! Afterwards, machines called detectors are used to see if any new particles have been produced and they also help to improve our knowledge about the particles we've already found. I work on one of the detectors, called the Compact Muon Solenoid (CMS) detector. This is to help us to learn more about one of the ways that a particle called the top quark is made inside this detector.

My Typical Day:

I use code to look at some of the data taken from the Large Hadron Collider

Read more

After protons are smashed together in the LHC, information about the particles that they produce is stored as data. Each second, the LHC generates more data than the that data contained in 200,000 DVDs! It's my job to use code to look through some of this data, specifically for when a top quark has been produced in the LHC, to help us to learn more about this particle. I carry out this work with a group of researchers at Brunel University, so lots of teamwork is involved and we have many meetings to discuss ideas!

What I'd do with the prize money:

I would buy different pieces of equipment to make physics demonstrations, helping students and members of the public to learn more about particle physics!
My Interview

How would you describe yourself in 3 words?

Hardworking, kind and ambitious

What or who inspired you to follow your career?

The Large Hadron Collider started when I was about 13 years old, so watching the news coverage about it first opened my eyes to particle physics! I've also had many great teachers and worked with amazing people who have been massive inspirations!

What was your favourite subject at school?

I've always loved physics. Learning about the very building blocks of our universe is fascinating!

What did you want to be after you left school?

A type of scientist called a Particle Physicist. Particle Physicists study incredibly small objects called particles that make up the entire universe!

Were you ever in trouble at school?

No, I was a very shy and quiet student who loved learning in lessons.

If you weren't doing this job, what would you choose instead?

A TV presenter or I would like to write science articles for a website or magazine.

Who is your favourite singer or band?

Too hard to choose a favourite! But I do like Adele, Lady Gaga, Ed Sheeran, Queen and many more.

What's your favourite food?

Definitely, definitely chocolate!

What is the most fun thing you've done?

I've done many fun things, but one was when I went to Norway and saw the Northern Lights!

If you had 3 wishes for yourself what would they be? - be honest!

To continue working at CERN in the future, to travel the world, and to later get married and have kids.

Tell us a joke.

Why can't you trust an atom? Because they make up everything!
My profile link:
https://ias.im/u.194286
---
---