Profile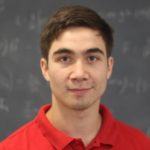 David Ho
My CV
Education

Imperial College London (2017-Present), Cambridge University (2013-2017), Longsands Academy (2006-2013)

Qualifications

Master's and Bachelor's Degrees in Natural Sciences

Work History

CERN, The MathWorks (software), Isaac Physics, Huntingdon Gymnastics Club, Ming Wai Chinese Takeaway

Current Job

Employer

My connections to STFC science and technology

My PhD is funded by STFC, which I'm very grateful for.
About Me:

I'm a theoretical physics PhD student who can't sit still for very long.

Read more

I was born in Cambridgeshire, but spent my very early life in Hong Kong and now live in London studying at Imperial College.

When I'm not struggling through physics calculations you'll often find me doing some kind of sport: I love to run and cycle when the weather's good, and when it's not so good I try my hand at gymnastics. When I need to recharge I like to drink coffee and chat with my friends, or read a book. I'm currently challenging myself to read books that I wouldn't normally pick off a shelf, so I'm open to any recommendations!

My Work:

I use computer models to work out the properties of theoretical particles that we've never seen!

Read more

I study a type of particle called a "magnetic monopole". All the magnets we've ever found in nature have a North and a South pole, and you can't split the two — if you cut a magnet in half you get two more magnets, each with North and South poles. However, a lot of the proposed theories describing the universe predict the existence of monopoles: as you can probably tell from the word, one of these would just be a North or a South pole on its own. If we can find these particles, we'll be able to work out a lot more about the universe beyond what we already know.

At the moment we don't know very much about how these particles behave (if they exist at all). We have some equations that describe them, but they are very difficult — sometimes even impossible — to solve! Trying to do them with a pen and paper would take hundreds of years — this is where fast computers are very useful. I write programs that make use of a computer's ability to do billions of calculations a second, which lets us make sense of these equations.

If we can build a reliable model of how magnetic monopoles behave, we might be able to work out why we've never seen them. It might be because we've never built an experiment powerful enough. It could turn out that we only need to look a little bit further, or it could be that we'd need an experiment the size of the galaxy!

My Typical Day:

Science at my own pace, with a bit of time to enjoy myself

Read more

I'm quite an early riser, so I'm usually up by 7 o'clock. If I'm feeling fresh I'll go for a cycle or a jog before work. I don't have specific hours I have to be in the office, but I normally try and get in at about 9. The flexible hours mean that it's easy for me to work shorter hours on some days and longer on others, so I can fit my work around the other things I'm interested in.

I spend most of my time at work in an office at my desk. I normally do rough calculations with pen and paper, or on a whiteboard, then for more "heavy-duty" work I fire up my computer and get programming. I meet with my PhD supervisor once a week, where we discuss the calculations we've done so far, and decide which calculations to do next.

Aside from my research, I also do some teaching of younger university students, either in a lab or a computing suite. I also attend "seminars", which are like small lectures where a speaker comes to talk about their current, cutting-edge research. These help scientists keep up with what other scientists are working on, and ask each other questions about their work. There's normally tea and biscuits afterwards too, which really helps to break up a long day!

Most days I finish work between 5 and 6pm, when I cycle home for dinner, and spend the evening relaxing or socialising with friends.

What I'd do with the prize money:

Answer even more students' science questions!

Read more

I'd love to organise an event where scientists visit schools and talk about what we do and what our lives are like. I'd hope that we'd be able to inspire people to take an interest in science, and answer lots of interesting questions from curious students — much like "I'm a Scientist", but live!

One idea that I have is to find schools or areas of the country where, at the moment, not very many students go on to be scientists when they grow up. Giving talks and answering questions in these schools would hopefully help to make the world of science a fairer and more diverse place, meaning that in the future there will be even more brilliant ideas.
My Interview

How would you describe yourself in 3 words?

Motivated, curious, optimistic.

What or who inspired you to follow your career?

I finished my degree in science and enjoyed it, so I wanted to do a little bit more.

What was your favourite subject at school?

It really depended on the teacher. A level further maths, year 11 drama and year 10 English really stand out.

What did you want to be after you left school?

I didn't really know, I wanted something to do with science and that was about it. Not much has changed, to be honest.

Were you ever in trouble at school?

I once got told off in primary school for doing handstands on the play equipment. I was having fun at the time, but looking back it was probably a little unsafe!

If you weren't doing this job, what would you choose instead?

I would probably have gone into software development --- I really enjoy problem-solving, and aside from scientific study, software seems to be one of the best opportunities to do that

Who is your favourite singer or band?

I'm not picky --- I'll listen to anything that's playing

What's your favourite food?

That's an unfair question, I can't just pick one! At the moment I've just started baking my own bread, and it's difficult to beat a fresh loaf.

What is the most fun thing you've done?

I cycled from the UK to Switzerland once --- that was a lot of fun, though my legs hurt a little by the end!

If you had 3 wishes for yourself what would they be? - be honest!

The ability to stop time would be pretty useful. It would be great to instantly know how to make someone happy. And maybe a new bike.

Tell us a joke.

What do you call a man with no shins? Toe-knee.
My profile link:
https://ias.im/u.194287
---
---
---